Application example resource planning
OPTIFER© is a software module integrated into the PPS system RatioFer©, which is embedded in various flow production fields (pharmaceutical, food, beverage, etc.). It has access to the production database and supports the planner interactively. The planning task consists of scheduling work processes and thus also allocating required resources (personnel, machines, workstations, …).
The utilization of resources, completion on schedule, set-up times, throughput times and capital commitment describe the costs of such a production plan.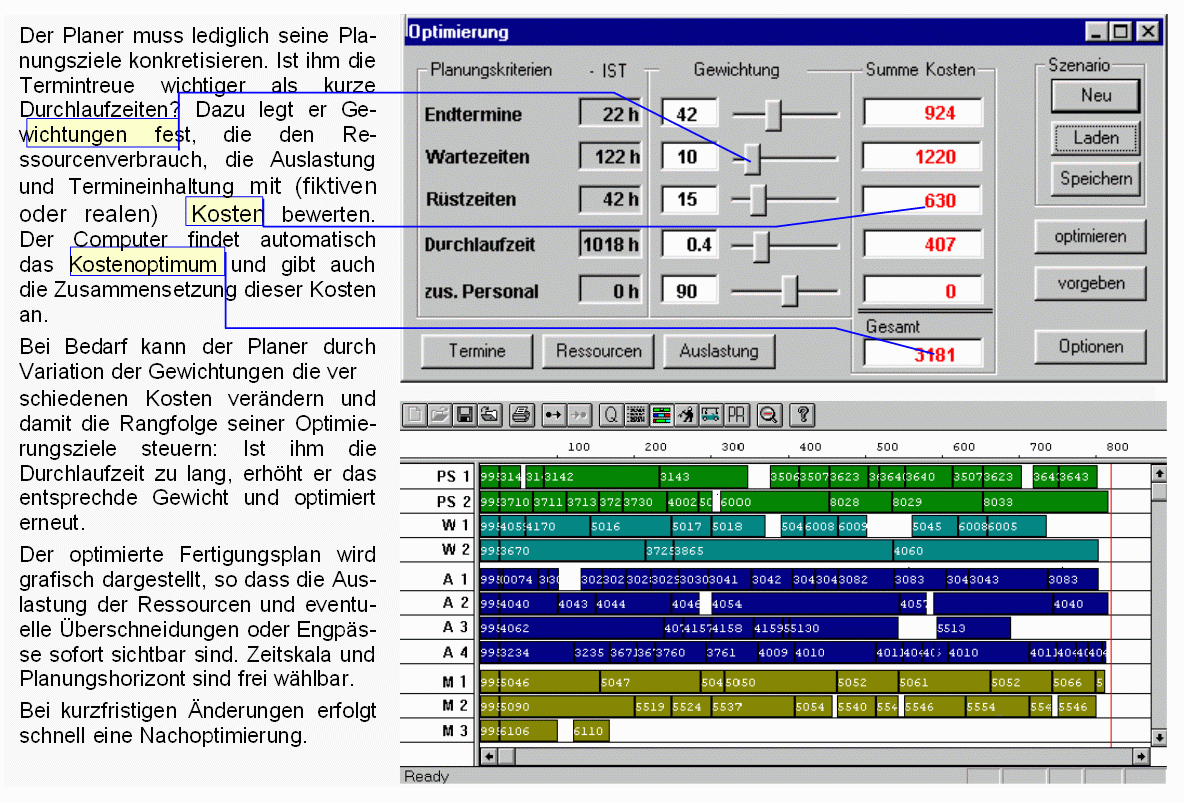 Typical applications are
Production plans
Duty rosters
Machine or hall occupancy
Timetables
Material and traffic flow systems
In all cases, the free parameters of a plan (start times, allocations) must be defined in compliance with boundary conditions (capacity, availability, dates, processing sequence) so that a combined quality measure (dates, capacity utilization, quality, costs) is optimal.
Our services
Systems research delivers your turnkey total solution with project experience, mathematical methods and software integration:
Application-oriented problem analysis
Support for data acquisition
Visualization of the results
Integration into existing customer IT structures, e.g. PPS systems, databases
Documentation and training
Systems research advises and supports you comprehensively in the analysis and selection of problem-specific methods. Our project management with practical experience and powerful software ensures a smooth process. Our overall concept also includes the user interface, database connection and network coupling.
Further project examples
Recipe or process optimization
On the basis of a good simulation model, variations of influencing variables (composition, residence times, control sequences) can be played through.
Engineering
Frequently, the components are specified for recurring design tasks and the target is precisely specified in the specifications. The variety of possible combinations and constantly changing properties of available components alone make the problem confusing for people.
The basic scheme for these optimization tasks is largely similar. There is a – mostly complex – simulation model for a process with planning parameters that must be set as optimally as possible in compliance with specified boundary conditions. For this evaluation, there is a quality measure that clearly assesses the quality of each simulation result. However, the relationship between parameters and results is so complicated and confusing that simple standard procedures fail. The automatic optimization strategy plays through many combinations in an intelligent and efficient way until an optimum or a sufficiently good solution is found. The planner can change the quality standards and thus has much more transparent possibilities to influence the result.